If you're searching for the most attractive Korean actors to watch, you've come to the right place. Our top 10 most handsome Korean actors list includes rising stars and seasoned actors. Korean actors have been enchanting audiences around the globe for years with their exceptional talent and striking appearance. Not only are they incredibly skilled, but they are also some of the most attractive actors in the entertainment industry.
Nowadays, this is the K-Entertainment era, and Korean actors and actresses are getting huge fame and attention all over the globe. Due to Korean dramas/series and movies' high popularity among the audience, we have seen much Korean entertainment dubbed into native languages creating endless opportunities for voice-over artists. 
Korean entertainment has produced some best handsome actors and artists from time to time. Korean actors have baffled the audience with their amazing acting skills and hot looks. From romantic comedies to epic dramas, Korean actors bring a unique flavor to every role they take on. Korean actors have become a staple in the entertainment industry, and their work has been recognized for its excellence. They have been nominated for and won numerous awards, including the prestigious Baeksang Arts and Asian Film Awards. Many Korean actors have gone on to star in international films and series, showcasing their versatility and talent. For those looking to experience the best in Korean entertainment, watching the incredible performances of Korean actors is the way to go. With their impressive range and passion for their craft, these actors will surely captivate and entertain audiences everywhere.
For this, we've chosen the Top 10 best handsome Korean Actors for you: 
List Of Handsome Korean Actors
10- Kim Soo-Hyun:
Kim Soo Hyun, born on February 16, 1988, is a highly-successful South Korean actor and one of the highest-paid in the country. Kim was a shy personality which can be closely observed while his television interviews. His body gesture and his voice tone predict how introverted Kim was in his childhood. He chose to learn acting skills and build confidence to face the audience from his mother to let go of his introverted personality. 
Kim made his television debut with the family sitcom "Kimchi Cheese Smile" in 2007. Due to his extraordinary acting skills, this handsome Korean actor was offered a different genre in Korean entertainment. Kim showcased his talent in various dramas and won his first Baeksang Arts Award for best actor – Television. Kim bags 04 Baeksang Arts Awards, 02 Grand Bell Awards and 01 Blue Dragon Films Award in his career. He was also listed among 40 Forbes Korean Power Celebrities. He also won Gallup Korea's Television Actor of the year in 2014. Kim was featured in Forbes 30 under 30 Asia list in 2016. 
Kim is best known for his roles in the popular drama series "My Love from Another Star," "Moon Embracing the Sun," and the hit movie "The Thieves." Kim's last thriller, "One Ordinary Day," came in 2021. 
Kim Soo Hyun has a well-deserved spot in our top 10 handsome Korean actors list. 
9- Lee Jong-suk:
South Korean actor and model Lee Jong Suk debuted as a runway model in 2005 and held the youngest male model to participate in Seoul Fashion Week. He was born on September 14, 1989.
Lee made his acting debut with the South Korean TV series Prosecutor Princess. Lee appeared in the horror movie "Ghost" marking his big-screen debut. Since then, Lee has done numerous dramas and movies and continues to grow more and more. His famous role was in the drama series "Pinocchio." Lee has won many achievements to date, like Asia Model Award in 2014, Baeksang Arts Award, Grimae Award, MBC Drama Awards, Korean Drama Awards, etc. 
In 2022, Lee, the owner of a restaurant called "89 Mansion," donated 100 million to assist those affected by the large wildfire that began in Uljin, Gyeongbuk, and subsequently spread to Samcheok, Gangwon.
Despite being a versatile actor and hot Korean model, Lee Jong Suk a generous and humble human being and richly earned his place in our top 10 handsome Korean actors.
8- Gong Yoo:
Gong Ji-Cheol, born July 10, 1979, better known by his stage name Gong Yoo is a South Korean actor. Gong was born in Busan, South Korea, and studied undergraduate studies at Kyung Hee University's Department of Theater and Film. In 2017, it was declared that Gong Yoo is a descendant of the Chinese philosopher Confucius and is part of the 79th generation of Confucius's descendants, originating from the Gokbu Gong clan.
Gong Yoo debuted in the melodrama A Man and a Woman in 2016. After his debut, Gong Yoo has some massive blockbuster successful series, dramas & movies. Train to Busan, Squid Game, The Age of Shadows, Guardian: The Lonely and Great God, and many recognizable hits. He also holds a list of achievements and awards, which includes the Baeksang Arts Award, Blue Dragon Film Award, Drama Fever Award, MBC Drama Award, etc. These accomplishments prove Gong's diversity and class of acting regardless of keeping handsome and dashing looks.
Gong Yoo is a highly recognizable name in K-Industry and surely grabs the top 10 handsome Korean actor's spot. 
7- Ji Chang-Wook:
Ji Chang Wook, a South Korean actor, and singer were born on July 5, 1987. He began his career in musical theatre before making his onscreen debut in the 2006 film Days and playing a minor role in the 2008 TV drama. You Stole My Heart. He officially debuted as an actor in 2008 with the film Sleeping Beauty. After completing his mandatory military service and being discharged from the Sergeant position, Ji returned to the entertainment industry.
Ji has worked in many Korean dramas and won the Best Actor in a Daily Drama Award. Ji's top working projects are Healer, The K2, Fabricated City, and others. Ji has won awards such as Best New Actor, Best Actor, Asia Celebrity Award, Global Star Award, etc. 
Ji Chang Wook striking looks and star presence brought him into our top 10 Handsome Korean actors.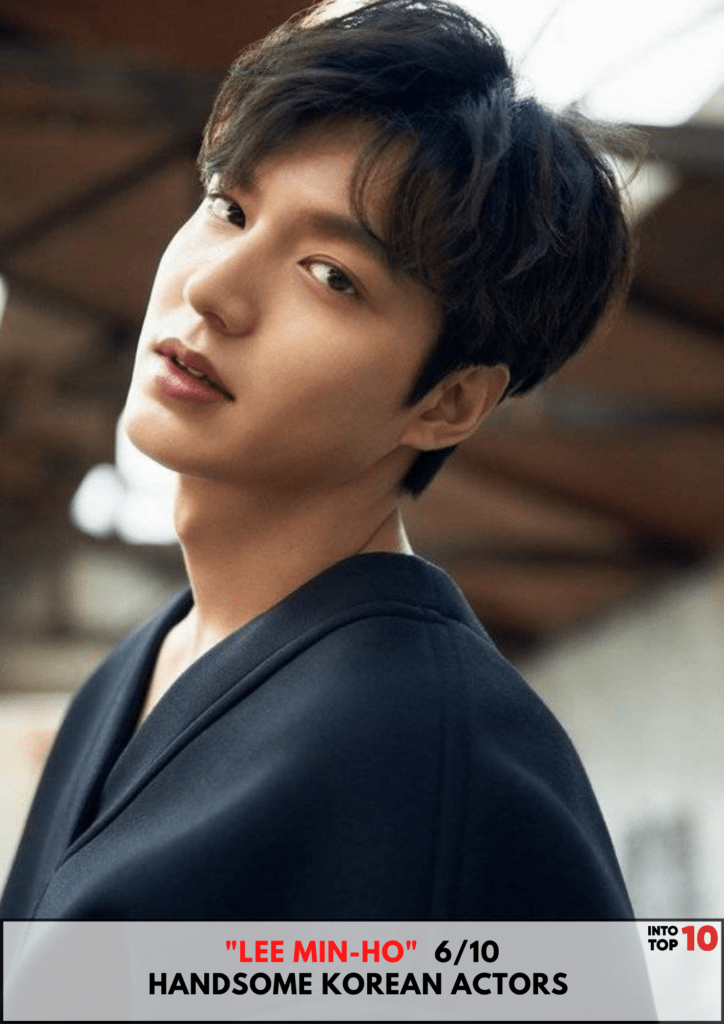 6- Lee Min-Ho:
Lee Min Ho was born on June 22, 1987, and is a South Korean actor, singer, model, creative director, and businessman. Lee wanted to be a Football player, but his dream ended due to an injury in his 5th Grade.   Lee was offered minor roles and did modeling for a few years. His official debut (central) part was in an EBS series, Secret Campus (2006). Lee has won multiple awards, and he's been named a brand ambassador for many brands and organizations like UNICEF, Konkuk University, etc. Lee has a history of philanthropy work where he donated 100 million to UNICEF for flood victims in Nepal and joined his fans to plant more than 500 trees in Magnolia. 
Due to Lee's diversity and popularity, he made it to our list of the top 10 handsome Korean actors.
Related Article: Top 10 Handsome Hollywood Actors In The World
5- Park Bo-Gum:
Park Bo-Gam was born on June 16, 1993, and is a South Korean actor. "Bo-gam" means "Precious Sword." Park was the youngest of his siblings and wanted to be a pianist as his career. Multiple agencies offered him to perform for them. He changed his path on a suggestion from his friends n family circle that he'll do great in acting, which turned out to be his life-changing decision.
Park was the youngest to be named Gallup Korea's Television Actor of the year. He is also the first ever actor to top the Korea Power Celebrity list by Forbes Korea. Park has won special awards and has been nominated for many categories. Park was the torchbearer of the 2018 Winter Olympics as "Korea's Representative Actor."
Park Bo-gam is a gem for the Korean industry and, without any doubt, deserves to be on our top 10 handsome Korean actor list.
Related Article: Top 10 Famous Australian Singers in 2022
4- Kim Seon-Ho:
Kim Seon-Ho, a South Korean actor, was born on May 8, 1986. He began his career on the stage and acted in multiple plays before making his screen debut in 2017 with Good Manager. After graduation, Kim earned a degree from the Department of Broadcasting and Entertainment.
Kim has won all major awards and achievements so far, achieving more popularity and recognition daily. He's been among the top picks for producers when it comes to television series or dramas, and movies. Kim is also known for his philanthropic works, as once he donated 100 million to the Korea Childhood Leukemia Foundation. He has also partnered with Marco Rojo for the 'Happy Bean Special Funding' project, raising money for better residential conditions for the elderly. Three days after the fund's opening on September 3, the fundraising surpassed 100 million won, exceeding the target amount by 3600%. 
Kim seems to have an impressive career, but what puts's cherry on the cake is his charming and manly looks and his elegant fashion sense. Kim Seon-Ho has to be in our top 10 Handsome Korean actor list.
Related Article: Top 10 Most Handsome Men In The World
3- So Ji-Sub:
So Ji-sub was born on November 4, 1977, and is a South Korean actor. Ji-sub always wanted to be a swimmer and won Bronze Medal at Korean National Games. Ji-sub was a massive fan of the Late Kim Sung-Jae, and because of him, Ji-sub started modelling so he could meet him one day. 
Ji-sub has a list of hit's under his name, but two of them to date are considered to be the best television dramas named "What happened in Bali" and "I'm Sorry, I love You." Ji-sub has played all genres of movies, from Horror to comedy. Ji-sub is considered the finest television actor in the K industry by many dramas n film gurus. Especially his role in "I am GHOST" received high applause from the audience, where he spoke no lines but delivered his role with strong emotions and powerful acting skills. JI-sub has won various prestigious awards throughout back-to-back years. 
Ji-sub was appointed as the goodwill ambassador of Gangwon Province to increase tourism due to his high demand. In recognition of his popularity, a 51-kilometre-long trail in the province was named "So Ji-sub Road" and was unveiled to the public in May. He holds the distinction of being the first Korean actor to have an entire road named after him. Ji-sub also launched his Photo-essay based book called "So Ji-sub Journey," where he showcased his captured events through his lens and shared his sight of life with his fans. Within ten days, the book hits the bestseller list. 
So Ji-sub is a star, and we can't miss him out in our top 10 handsome Korean actors' spot.
2- Seo In-Guk:
Seo In guk, a South Korean singer-songwriter and actor was born on October 23, 1987. He began his career as the winner of Superstar K for singing. He later changed his path, became a full-time actor, and gave many hit television series and dramas. 
Seo grows up as a very poor child as both of his parent's earnings were hand to mouth. Seo learns boxing and martial arts and then later dreams of being single. He appeared in the 2009 reality show Superstar K and won. Seo received fame spotlight after winning, and many music producers and agencies approached him. Seo gave good music to his fans and appeared as the lead model in one of his singles. He mentioned that experience as "Awkward". 
Later, Seo was offered different roles in television and web series, which he gladly accepted and tried his luck in acting, which turned out to be his correct decision. Despite his versatile life careers and acknowledgments, one thing that stood in common was his looks. Seo vanished from the screen after 03 months to surprise his audience as he lost 33 pounds and stunned everyone with his new amazing face. Many of his viewers claimed that Seo might have used plastic surgery, but this was a strict diet. Seo has won multi-type awards for singing to acting and is a notable celebrity in the K industry. 
Seo's personality and achievements have gained our attention which is why he is in our top 10 handsome Korean actors countdown.
1- Song Joong-ki:
Song Joong-ki, a South Korean actor born on September 19, 1985, gained fame through his performances in the historical coming-of-age drama Sungkyunkwan Scandal (2010) and as one of the original cast members on the variety show Running Man (2010-2011). As a child, he was passionate about skating and even competed in the National Championship, representing his hometown. However, an injury sustained during an event prompted him to quit his skating routine.
In 2012, He attained a Business Administration degree with a minor in broadcasting, swiftly excelling in his studies. He also earned a high score of 380 out of 400 on his entrance test. With a versatile acting range, he has portrayed a variety of characters in the television series The Innocent Man (2012), Descendants of the Sun (2016), Arthdal Chronicles (2019), Vincenzo (2021), and Reborn Rich (2022), as well as in the successful films A Werewolf Boy (2012), The Battleship Island (2017), and Space Sweepers (2021). His talent and popularity have earned him recognition as a Forbes Korea Power Celebrity in 2013, 2017, and 2018.
Song Joong-ki is very quiet with his donations and philanthropic doings. However, Song has a list of high gifts and campaigns he is part of. Song has won all major awards and has also been rewarded internationally from time to time. 
The Song is about a celebrity who needs no introduction and, to date, is highly famous. Song striking jaw-line and attractive physic make him a global icon and our last spot of the top 10 handsome Korean actors.